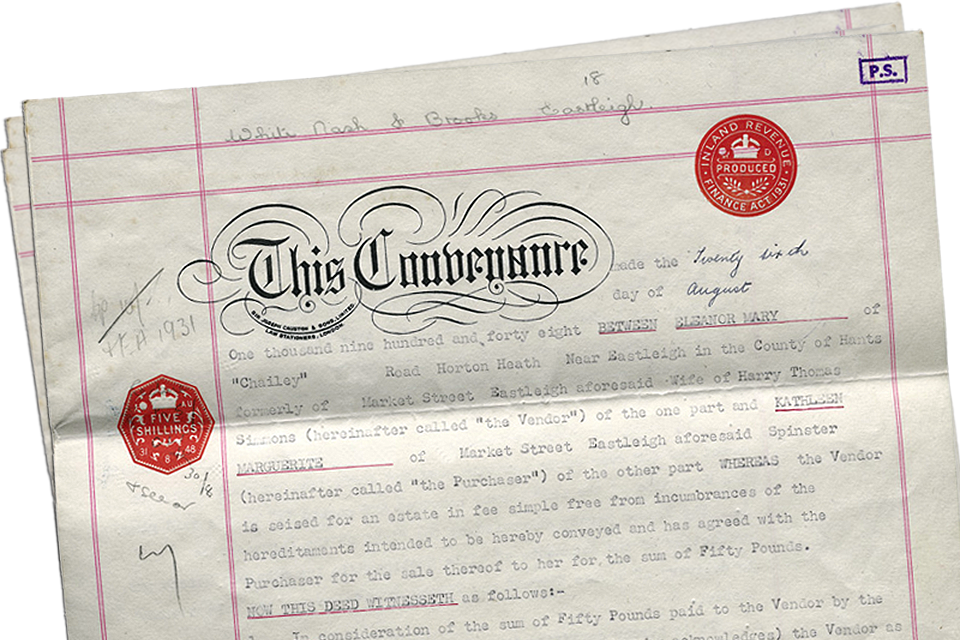 When customers ask us for title deeds, they are frequently disappointed to learn that we don't have the originals! So what are they, where are they kept and do you need them?
What are title deeds?
Title deeds are paper documents showing the chain of ownership for land and property. They can include:
conveyances;
contracts for sale;
wills;
mortgages; and
leases.
Where are my title deeds?
HM Land Registry records are digital, so we don't store paper title deeds.
Generally, we only have the original title deeds when land or property is registered for the first time, as we need them to prepare the register. We create scanned copies of some deeds and then return all the original title deeds to whoever lodged them (usually the solicitor or conveyancer acting on behalf of the buyer).
If you want to see a scanned copy of the deeds that we have on file, you should start by searching our property information and finding your property's title number. If the register refers to deeds being filed, we should have copies. You can then request a copy of your deeds.
If you're trying to track down your original deeds, they could be with the solicitor who acted for you when you bought the property or with your mortgage company (if you have a mortgage).
Do I need my title deeds?
Most of the land and property in England and Wales has been registered, but if your property isn't on the register and you are applying for first registration, not having your original deeds can make things more complicated. You'll need to supply a statutory declaration or statement of truth and verify your ID. As well as these additional hurdles, at the end of the application process, we may only be able to offer you a possessory title.
Once the first registration process is complete, it's still a good idea to keep your original title deeds, as they can contain information about legal boundaries and who owned the property previously. If you need to confirm ownership for legal reasons, though, you will need to apply for an official copy of the register.