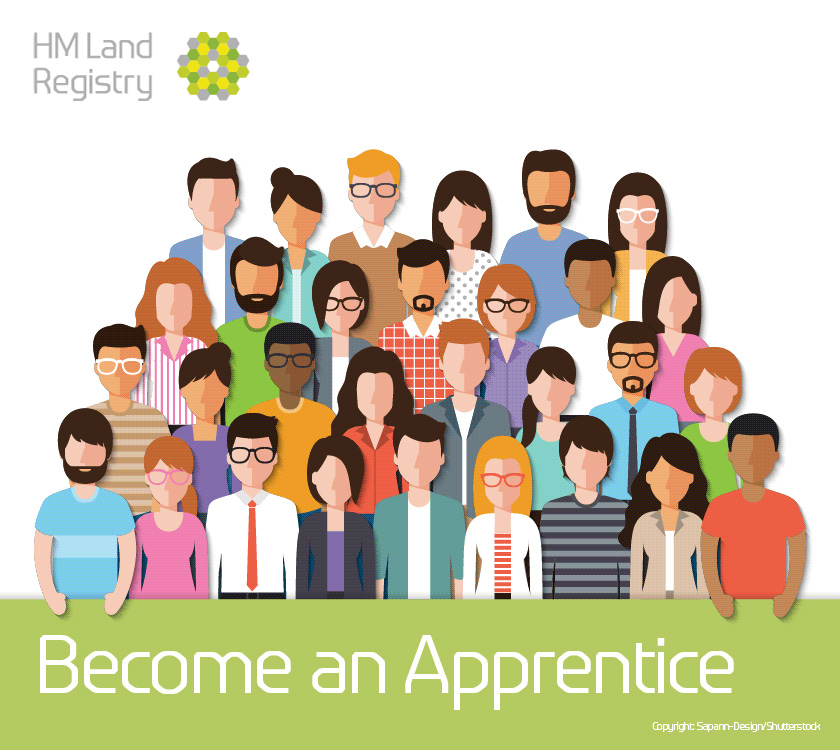 Hi, my name is Reza-Jamison and I've been an apprentice at HM Land Registry for almost a year now. In that time I have learned so much and been involved in a number of projects that are helping to shape me into a competent well-rounded professional.
I wanted to give you a brief insight into what it's like being on an Advanced Apprenticeship in Business Administration at HM Land Registry.
What does an HM Land Registry apprentice do?
HM Land Registry is the government department responsible for registering the ownership of land and property in England and Wales. The organisation is going through a transformation programme to make us a 'more digital data-driven registration business', so being an apprentice at this time is really exciting.
HM Land Registry has apprentices throughout the organisation. The majority, like me, are in Operations, which means we process applications (such as for changes in ownership and new mortgages), but there are also apprentices who work in our Local Land Charges programme, Finance, Human Resources and IT (information technology).
Whichever area you work in, you can expect to receive a substantial amount of support from your supervisor, senior colleagues and the other apprentices.
What to expect: studying for a BTEC
One of the benefits of the apprenticeship scheme is the opportunity to be paid to study for a nationally recognised qualification. The BTEC Level 3 Diploma in Business Administration teaches you how businesses operate and explores many aspects of work life such as customer service and managing tasks. You use working life examples in your assignments, so it's helping me understand how I can contribute positively and progress in my career. We're given time to complete our studies as well as workshops, group sessions and one-to-one support from our training provider.
What are the benefits of working here?
There are lots of benefits to working for HM Land Registry but some of the main ones for me are (drum roll!):
continuous training – as well as studying for our BTEC we get access to Civil Service Learning modules which help us to develop our skills and confidence further;
opportunities to develop – I've been able to get involved in projects within my team and within my group of apprentices. There are also opportunities to work in other areas of the organisation or on large-scale projects; and
lots of social activities to get involved in – we have local and national sports and social committees who organise events, days out and sporting teams. Whether you want to make new friends within HM Land Registry or you want to keep active, there is something for everyone.
Top tips for applying:
Apprentice vacancies are advertised on GOV.UK, National Apprenticeship Service and Civil Service jobs. They are also advertised on our social media channels, so follow us on Facebook, Twitter and LinkedIn to find out when they're available.
Here are my top tips for applying for an apprenticeship with HM Land Registry:
The most important thing I have realised as an apprentice is that there is a lot to learn, but there isn't an expectation to know everything straight away. If you're interested in an apprenticeship with HM Land Registry I would really encourage you to apply – and if you're successful, don't forget to say "hi" if you see me around.