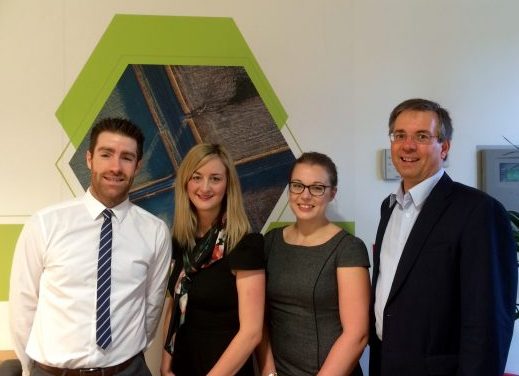 Sixteen recently recruited Assistant Land Registrars have brought fresh skills, knowledge, and experience to our Local Lawyer Team. Chris, Charlotte, Hayley, and Tim tell us why they joined HM Land Registry and what they have found here.
Charlotte Takeuchi
I qualified as a solicitor in 2007 and worked at both Eversheds and TLT Solicitors. My specialism was commercial property, dealing with acquisitions, disposals, complex site assembly projects and large-scale investment purchases. I acted for a national historic network, an international hotel chain and one of the world's largest construction and support services.
I joined HM Land Registry as I have always enjoyed the academic study of land law and was interested in the role of an Assistant Land Registrar because I thought it would provide a unique and challenging opportunity to combine the theory and practical application of land and registration law. I was attracted to the Civil Service as an employer because of its reputation for offering excellent training and career development opportunities and its commitment to staff development and diversity.
Since joining HM Land Registry I have undertaken a comprehensive and well-structured training programme. As an Assistant Land Registrar I am now working as part of a national team of lawyers providing legal and technical advice to the skilled staff of land registration professionals working in the various offices throughout the country. I am thoroughly enjoying the role and the opportunities it brings me.
Tim Smithers
I joined HM Land Registry after more than 30 years in private practice, 25 as a partner with Veale Wasbrough Vizards based in Bristol. I specialised in property development work, acting for developers, investors, local authorities, universities and energy companies.
When I saw new-builds I had worked on in the 1980s being redeveloped I decided it was time for a new challenge!  Having been a customer for many years I was attracted to HM Land Registry by the wide variety and complexity of issues on which the national legal team is called to advise and make decisions every day.
Reflecting on the first six months, what has most impressed me is:
the breadth and depth of experience of the casework teams who are the backbone of HM Land Registry and whose considered decisions protect the integrity of the register;
the wide spectrum of legal work and the expertise of the HM Land Registry lawyers to match;
the daily challenge for the management teams in processing the 20,000 registration applications that arrive every working day, meeting quality and performance standards and coping with spikes in demand such as the recent buy-to-let stamp duty land tax deadline; and
an open management style focused on innovation and improving customer service within challenging financial constraints.
I am very proud to be part of the HM Land Registry team.
Hayley Parfitt
I have thoroughly enjoyed my first few months here and the training programme has been extremely beneficial and well-organised. The work is varied and interesting and I am looking forward to building on my skills and becoming involved in future projects and possibly other roles within the Local Lawyer Group.
I qualified as a solicitor in September 2011 and worked in residential conveyancing at a medium-sized high street firm, Straw and Pearce in Loughborough. As I slowly tired of the daily M1 commute, I decided to move to Rothera Dowson, a local firm in Nottingham, in 2014 before joining HM Land Registry.
I became a solicitor because I enjoyed reading law and having to apply it to different situations. Working as a conveyancer I very rarely had to look at complex legal issues and my days mainly consisted of dealing with frustrated clients because they couldn't have their preferred completion date or problems with removal vans! I wanted to get back into looking at the law and this role was my perfect opportunity.
Chris Day
I decided to apply for an Assistant Land Registrar role in HM Land Registry because it was the ideal opportunity to specialise in an interesting area of law. It also allowed me to remain actively interested in litigation, particularly in relation to indemnity and alteration to the register.
I qualified as a solicitor in 2014 but had spent a few years working as a paralegal and trainee solicitor after graduating in 2009. Before joining HM Land Registry I worked for LG Williams & Prichard, a firm based in Cardiff, running a varied caseload including both contentious and non-contentious work.
My training has been an excellent introduction to the technical aspects of the law relevant to land ownership and registration. Due to the complexity of the cases dealt with on a daily basis by the Assistant Land Registrars, we are required to have a level of expertise that is simply not required in the day-to-day work of a conveyancer in private practice. Beginning to develop my own expertise has been both challenging and rewarding, and I hope that it will continue to be so as my HM Land Registry career progresses.