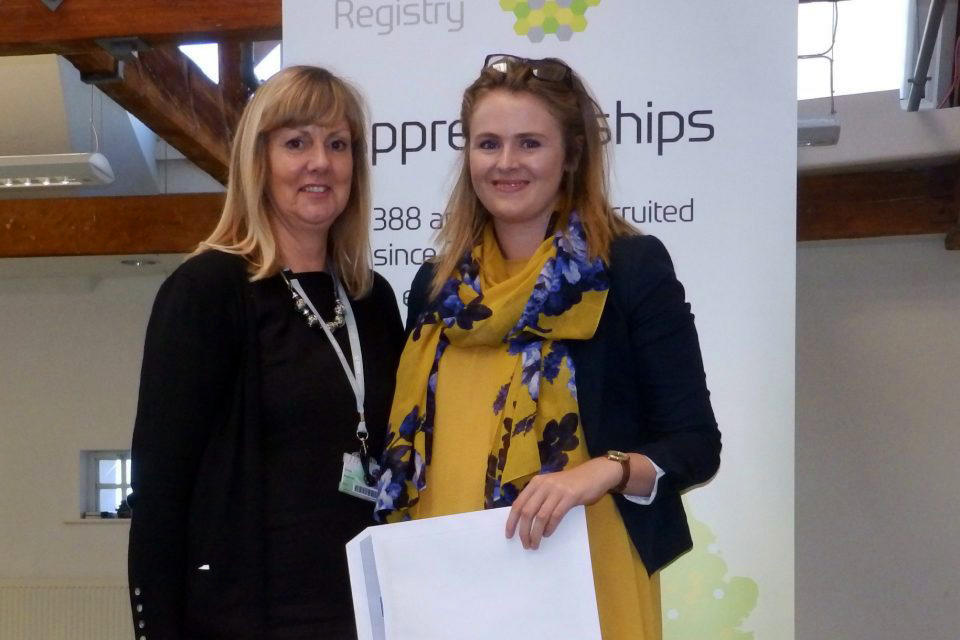 In September 2014 I started my two-year apprenticeship at HM Land Registry's Telford office. Previously I'd worked on my family farm in rural Shropshire, so swapping my wellies for a pair of heels came as a bit of a shock.
As an apprentice, I primarily processed remortgage applications and airspace leases. This casework gave me a good grounding in land registration and introduced me to the Land Register, applications and some of the background law – pretty complicated!
Alongside my operational role, I studied towards a BTEC qualification in Business Administration as part of my apprenticeship. The course covered all manner of subjects, including communication and presentational skills. My dad had always said I could talk for England, so I particularly enjoyed delivering presentations!
I greatly enjoyed studying alongside my working life, as it gave me the opportunity to practically apply my skills and knowledge, which in turn consolidated my learning.
As well as studying, I also delivered a lecture at a local university about the land registration process and attended apprentice development days, where all the apprentices met to share best practice.
At the beginning of the year, the opportunity arose to apply for promotion and I decided to go for it. I enjoyed working as an apprentice but since day one I'd always had an appetite to learn more.
The application process included a competency-based test and then a rigorous interview. I spent the next three weeks with my fingers crossed and avoiding every crack in the pavement…
I was delighted to be appointed and took up the position of Registration Executive in August 2015 and enrolled on a six-month training programme.
Now my daily workload consists of registering transfers and leases, as well as managing my team's backlog. I thoroughly enjoy my job, particularly considering applications concerning farms and rural estates – I'm still a farmer's daughter at heart.
I've now completed my qualification and, looking back, it's been a challenging but really rewarding programme. I've grown into a confident young woman with a real passion for learning and a mind full of HM Land Registry knowledge – which proved useful when I bought my first house this year!
To conclude our apprenticeship we held a graduation day, where I was fortunate enough to be awarded Apprentice of the Year. It was an honour to be recognised for my achievements over the past two years and a wonderful way to end my time as an apprentice.