If you're looking for information about land or property in England or Wales, you'll probably want to explore HM Land Registry land and property records. You may not realise, however, that there are several private companies who re-sell our information for significantly higher prices.
We often get contacted by people who have bought a title register or title plan from one of these resellers but think they've been dealing with us. They are surprised to learn that they could have bought the records much more cheaply, directly from us (from as little as £3).
I witnessed this unwitting choice during a user testing session. Members of the public were presented with a web browser and asked to find our homepage. Many people clicked on the first search result they saw with the words "Land Registry" in the title and assumed they were on the right website.
The problem with this approach is that the first few results in search engines, such as Google or Bing, are paid advertisements and will not lead to GOV.UK or our services.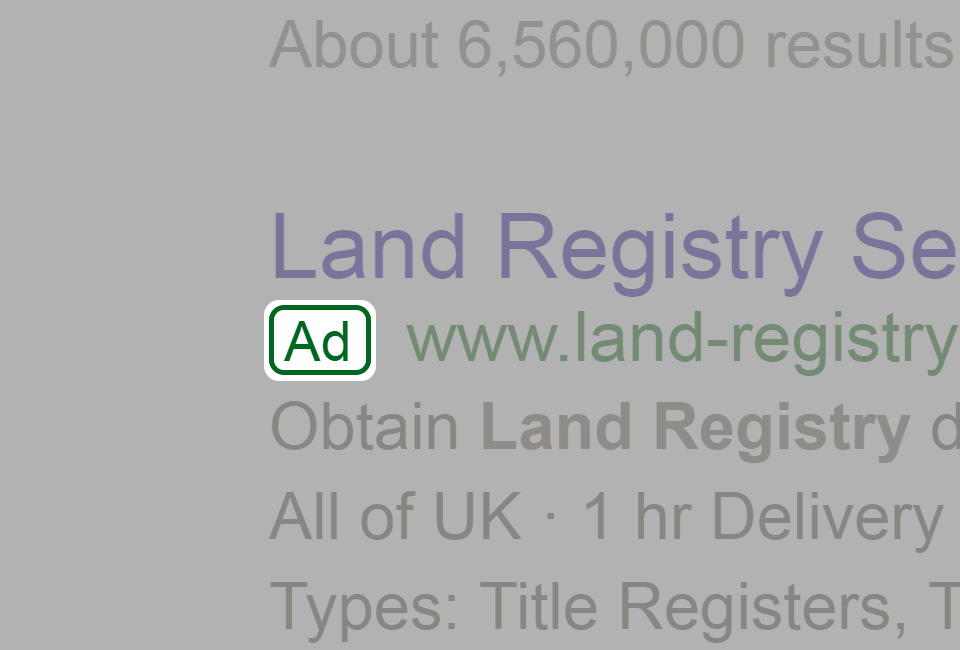 Don't pay too much
To avoid paying more than you need to for our services:
always start on GOV.UK, the official home of government information and services;
look out for the word "Ad" if you're using a search engine, as these are adverts for third-party services;
look out for disclaimer statements in website banners and footers; and
check for "gov.uk" in the domain name (website address), as only government departments can legally use this.
Making it clear who's who
Private companies cannot confuse the public into thinking they are transacting with us and are not entitled to use "Land Registry" in their domain name. We're aware that some sites use variations to try to get around this and are exploring what we can do to stop them.
If you think you've been misled by a website, please contact us. We keep a log and may take action. Our previous actions have resulted in changes being made to some websites and two others being closed down by the UK internet governing body for infringing the use of our name.
If you think an advert is misleading, you can report it to the Advertising Standards Authority.
If you think you have been misled into buying goods or services, you can report it to Trading Standards.