All exempt document applications are managed by our specialist team at our Birkenhead Office. While these applications are small in number, we calculate that something in the region of 70% can be rejected each day due to misunderstandings in how they should be put together.
We'd like to change that so we have come up with some easy step-by-step guidelines to help you.
Step 1: Know what you cannot exempt
This is about understanding that HM Land Registry has a duty to keep the register open and transparent. In short, any request which breaches our 'keeping of the register' rule is likely to be rejected.
It's worth remembering you cannot exclude the following.
A whole document.
Price paid in a transfer.
Premium paid in a lease.
Execution clauses or signatures.
Document facts (more on this in step 4).
Easements or restrictive covenants.
(See paragraph 2.4 of Practice Guide 57 – Exempting documents from the general right to inspect and copy for more information.)
Step 2: Complete the forms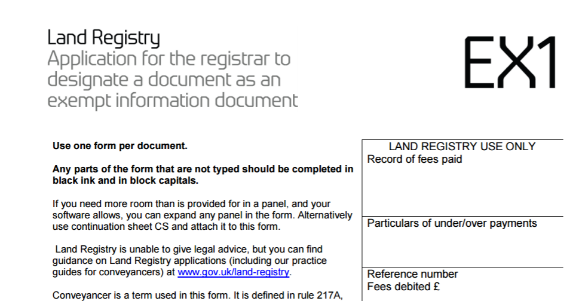 We need a separate set of forms for each document that contains exempt information.
Form EX1 (application form)
Our fees are £12 for an electronic application or £25 for a paper application.
Form EX1A (reasons form)
This form needs to accompany form EX1.
Panel 5 needs to tell us why the information is commercially sensitive, or why it is likely to cause distress or damage. It is also helpful if you can tell us where the prejudicial information is within the document by reference to a page number, paragraph, schedule and so on. This makes it easier for us to process the application.
Remember – this form is not available for the public to see.
Step 3: Provide a full copy of the document
In most cases the exempt application will be included with an application to also register the document.
If exempt status is approved – both applications are processed together and only a redacted version will be made available for the public to see.
If exempt status is rejected – registration will still continue unless you tell us clearly that registration is conditional upon the exempt application being successful.
The registrar must retain custody of the full copy document in the event it has to be produced for a police enquiry, or if exempt status is later withdrawn, or if we receive an application in form EX2.
Top tips to avoid rejection
Always provide the full copy document.
Send in the right part of the document. So, for example, if the document is a lease, then we need to see the part retained by the tenant and executed by the landlord.
If the document includes a plan or plans, ensure they are prepared in colour.
Did you know?
You do not have to supply documents to support applications in forms RX1 or UN1.
Step 4: Edit and provide a redacted copy of the document
The redacted document must be identical to the full copy (less only the prejudicial information). Check the document plans are in colour.
Notes about editing
Exclude only vital words or phrases.
Do not exclude full paragraphs.
Do not exclude definition captions, description titles, subtitles, headers, footers or legends.
Do not remove any information from a contents page.
Do not exclude or change numberings or lettering of clauses.
Do not exclude document facts.
So, for example, if you are applying to exclude rent from a lease exclude only the financial numbers or words. Leave all the associated headings in place so we don't reject on the basis that you have concealed from the document the fact that rent is payable.
Similarly, the same applies to clauses allowing for determination of a lease.  Details about them can go but the fact that they exist cannot.
Step 5: The excluded indicators
Write or type the words 'excluded information' in the redacted copy document in every space where the prejudicial information has been removed.

Step 6: Certify the front page of the redacted copy document
The certificate might be worded like this.
We [name] certify that this is a copy of the [description of document] dated [date of document] after removal of all the 'prejudicial information' within the meaning of r.131 of the Land Registration Rules 2003 and (wherever appropriate) includes the words 'excluded information' as required by rule 136(2)(b) and that it is otherwise a true copy.
Signature……..
Date……..
Note: we do not accept separately attached certificates.
More information
This is a brief summary. Our practice guides contain a great deal more information. HM Land Registry examines each application on its own merits and in every case must be satisfied the application should proceed.
See Practice Guide 57 – Exempting documents from the general right to inspect and copy.