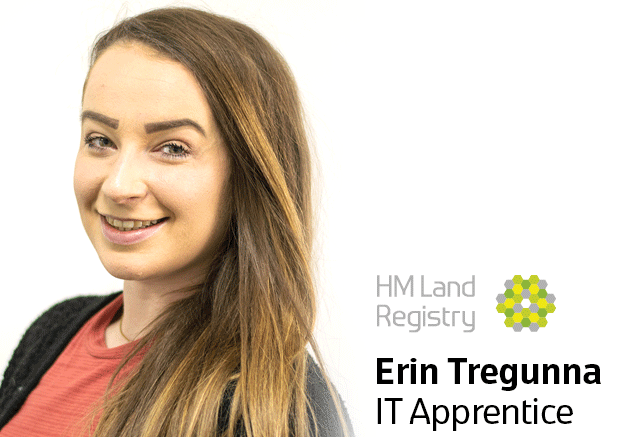 When I first started my IT apprenticeship at HM Land Registry a year ago, I was looking for a career change and an opportunity to work in a fast-paced environment. I've always had a keen interest in technology, the future and making things happen for people and HM Land Registry looked like a fantastic place for me to do this.
As a young woman embarking on an entirely different adventure, I was fairly nervous before joining my team. Would they like me? Could I do the job? What if I couldn't keep up?
Reflecting on this now, I don't know what I was worried about! I work with such a great group of people.
Every day, I'm surrounded by passionate, energetic colleagues who inspire me to work hard and are role models for me within the IT sector. They're all so supportive of my development as an apprentice and I'm truly grateful for all the time and energy that's been invested in me, to mentor me and prepare me for my career.
I continue to surprise myself with how far I've come. Looking back at my first week within my team, I was sitting on the periphery of meetings trying to figure out what on earth was going on. Now I feel like my voice is not only heard but respected within my team.
I threw myself in at the deep end and it was hard work but so worth it. I've got a brilliant network of other HM Land Registry designers who are there to lend a hand and give me advice whenever I need it.
Exciting opportunities
I've tried to immerse myself into the world of IT and integrate myself into the ways of working as much as possible. I've been fortunate enough to have lots of exciting opportunities within my first year working here. I've:
attended the Agile Business consortium conference 2019
attended government-wide design meetups
helped with the organisation of our internal Digital, Data and Technology Directorate conference
worked at a careers fair to inspire young students
given a talk at a STEM (science, technology, engineering and mathematics) event
Learning on the job has been one of the best decisions I've made. The experience, so far, has been both inspiring and extremely rewarding. Every day is different. I come into the office each morning with new challenges to face and different problems to solve. I could be travelling to London to meet external stakeholders, such as conveyancers and lenders, presenting at an internal show and tell, attending college or leading design workshops.
I'm truly humbled to have been nominated and shortlisted for Radio Plymouth's Apprentice of the Year award 2019. No matter the outcome, it's an honour to be representing HM Land Registry and the values we stand for.
If there's one piece of advice I would give to anyone thinking about a career in IT, it would be "do it!". It's such a varied and enjoyable profession and has helped me learn so much about myself and I'm only one year in!
The biggest lesson I've learned so far is that it's OK not to have all of the answers and no question is a stupid question.
I'm now looking forward to the next half of my apprenticeship and what other opportunities HM Land Registry has in store!