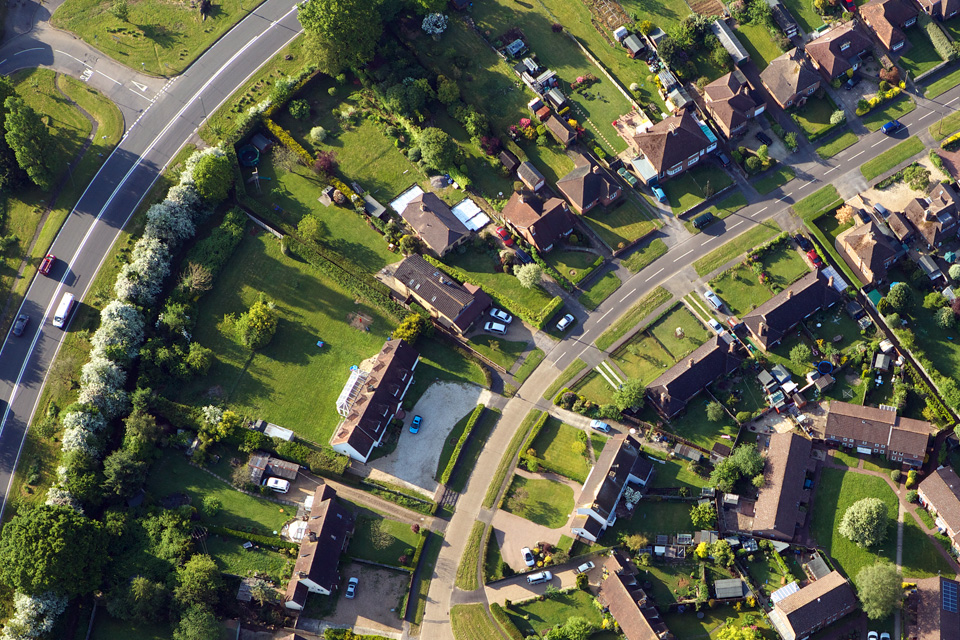 Back in March, I was asked to lead HM Land Registry's Local Land Charges (LLC) Programme. I can recall the excitement of having the opportunity to work on a programme that has so much to offer; a programme that has the potential to deliver a step change improvement in how we deal in property across the country. By the time I joined the programme in April we were in lockdown, so I've not yet physically met most of the team, but I've been blown away by their commitment and adaptability.
Our LLC team are working behind the scenes with customers and local authority colleagues to ensure the continued delivery of our service, at this time when coronavirus (COVID-19) security is of utmost importance.  Our objective remains the same: to transform and digitise more than 25 million data items from more than 300 LLC registers across England and provide a single, simple-to-use digital service for homebuyers.
In July, Karina Singh, our Director of Transformation, spoke about the steps we're taking to speed up local land charges delivery. It is our ambition to build on everything we've learned so far, and I'm excited to share the next stage of our plans.
The future of delivering our service
Increasing the pace at which local authorities are joining our central digital register is vital. This process, from when an authority begins to work with us through to when they have gone live, is referred to as migration.
The first 12 local authorities to join our register have taught us much. Through listening to user feedback and identifying the scope and scale of the work required for each local authority, we have developed a new approach to deliver a better experience.
This new approach will focus on regional areas, or 'clusters', of local authorities that we will look to migrate at a similar time, while adhering to local restrictions.
Laying the foundations for this new approach will provide significant benefits. Working with local authorities in specific areas means that management and coordination between HM Land Registry and local authorities flows naturally. Migrating wider regions allows local authorities to share knowledge and support each other through the experience – something we've already found very beneficial to the process. We will also provide greater benefit to customers and Local Enterprise Partnerships, many of whom operate in regions that span local authority boundaries.
This ties in with the benefits that the programme will bring on a national, regional and local scale. The government recognises that providing delivery at a greater pace is more important now than it has ever been for the UK economy. Citizens and communities need to access high quality digital services quickly. Improving the LLC service will make it easier and quicker for infrastructure and housing developers to make informed decisions about their projects with the immediate availability of LLC data. These improvements will also benefit individual property buyers to find out important information on a property and make informed decisions about the purchase more quickly.
Rolling out our new approach continues our commitment to be as focussed on our customers and users as possible. As well as local authorities, we have worked with Local Enterprise Partnerships and our LLC advisory board to ensure that the feedback of everyone is taken on board
Next steps
As we enter the second half of this financial year and set our sights on 2021/22, we have more than 60 local authorities actively working with us or preparing their data for migration to the LLC register. Communications have gone out to 30 authorities to invite them to begin working with us formally on their LLC data.  By progressing this large number of local authorities through the 'pipeline' of migration we can ensure we are working as efficiently as possible at any given time. Migrations will vary in terms of what support is required, but moving forward the LLC Programme will have a rotating stock of authorities to support and progress simultaneously.
We will continue our engagement work, including webinars, to ensure local authorities are supported from the start of their journey through to the end.
The coming years will see migrations delivered faster and on a greater scale as best practices acquired since 2018 are employed. There will always be lessons to learn but by combining our own expertise with feedback from our users I am fully confident in our ability to deliver an LLC service fit for a digital age.