Three years on GOV.UK
This month we celebrate three years on GOV.UK, a website created by the Government Digital Service (GDS) to provide a single point of access to government services in the UK.
The content transition from our former website to GOV.UK helped to us review all our content, so that we only moved the most relevant content. Some people miss the old website, but it's important to remember that it contained a lot of duplication and wasn't focused on user needs.
Helping people online
The times when people need to use our services can also coincide with potentially stressful events in their lives, such as when they are buying and selling a home, when a relative has died or when they have got married or divorced. That's why it's important that our instructions are clear and can be understood by everyone.
To meet all the various needs of buying and selling land and property, we work every day to improve our online content. That's my job. We test new sentences and the order of information with real people and property professionals, to either make our online guidance better or to create new guidance. For example, we created information about why we send bankruptcy enquiry letters to make it clearer what to do if you receive one. We write legal and technical documents with plain English in mind, for example, change of organisation name. We aim to be as clear and descriptive as possible while keeping it concise.
I'm part of a great team: we brainstorm, consult, support each other and fact check each others' work and come up with solutions. We do all this while maintaining business as usual web content like corporate reports, transparency data information, price paid data, transaction data and my biggest task: UK House Price Index data.
For many months now, I've been working on how property professionals apply to our Business e-services. We have now gone live and it will hopefully make the application process easier for customers.
Happy blog-
iversary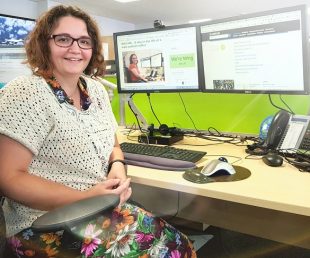 I've been posting monthly blog updates about what we're up to online for two years now. In this time, I've attended user research and workshops to improve our customer services, and increased my knowledge on how to make online content accessible. I've been part of the GDS steering group to organise the regular GOV.UK content conference.  I've joined the sustainability team in our office in Croydon to improve our environmental impact and I even won a 'People Award' last year, voted for by colleagues.
Colleagues have changed, we've moved desks and floors, but what I've described in my first post A day in the life of a web content editor is still very much the same and I still love it! From the 7th floor of our tower in Croydon, thank you HM Land Registry.