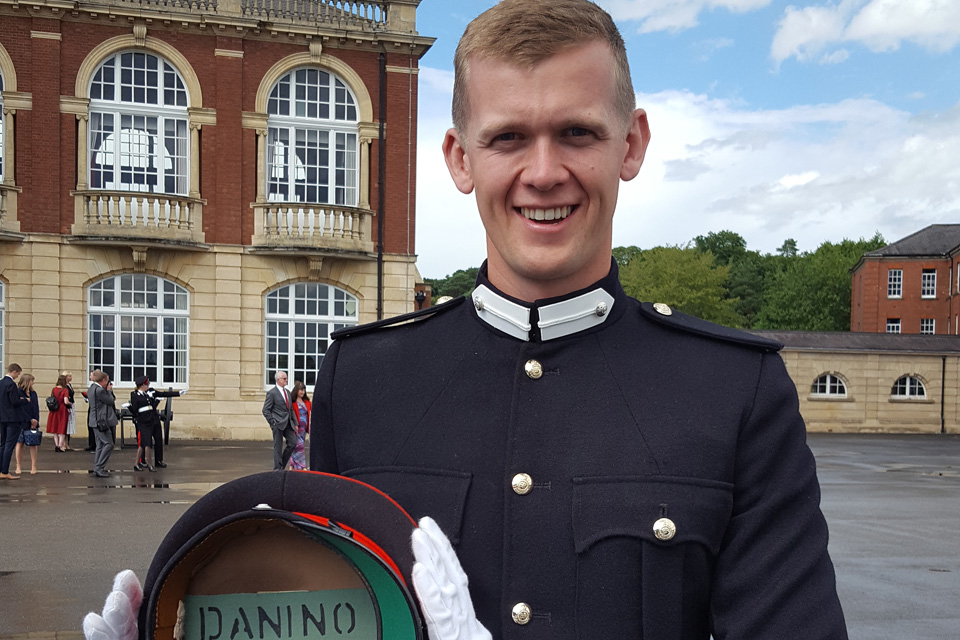 I joined HM Land Registry over a year ago. It has been a hugely rewarding experience for me professionally as a government communicator, and certainly the amount (and quality) of press and marketing we do as an organisation is impressive. What has been important to me over-and-above the day job is my manager's commitment to my army reserve service and how he is supported in doing this by the organisation and by the wider Civil Service.
Twice the citizen
Winston Churchill once said, "The reservist is twice the citizen".
I am still not sure what he meant by this. Did Churchill mean that, as a reservist, I owe twice as much to our country, or does the country owe twice as much to me? I pay my taxes, I vote, I pick up litter. My country has provided me health, education and a lawful society in which I am protected for being who I am. So, what has possessed me to pursue a career in the reserves, what more do I have to give and what more do I want to get in return?
My army journey is not typical. I did not join the army in the aftermath of 9/11, though I know some who did and who fought bravely to protect the concept of democracy and humanitarian intervention in regions of the world where a threat was perceived to the UK and our allies, regions where women lacked basic human rights, LGBT and minority-faith citizens were being abused, and tyrants were running amok and shielding terrorist groups. I did not join the army in the aftermath of natural disasters or global health emergencies, though I know some who did and who provided care and support to fellow humans, partner countries and cultures struggling with what the elements have thrown at them. The images of HM Armed Forces on the battlefield or supporting in hurricane clear-up are strong ones for me but they are not why I joined.
I joined the army because my skills were in demand. I joined because I would be developed as a leader, so all my team would benefit. I joined because I would become part of a bigger team, a family. So, after a few months of security clearance and exams, I went to the Royal Military Academy Sandhurst to gain my Officer's Commission. It was the most fun I never want to have again – exercises in the coldest winter in a generation, drill manoeuvres with intimidating Company Sergeant Majors, and plenty of cleaning rifles, door knobs, and boots gets to you in a way that you can't appreciate unless you have been there yourself!
My role at work and in uniform
Following my time at Sandhurst (which the Civil Service gave me as full-paid leave), I joined the London Regiment, the Guards Reserve Battalion. In my army role, I take my civilian expertise in strategic comms, media handling and proactive marketing campaigns and utilise them to provide guidance, planning and delivery of army comms priorities. Sometimes I can fit this work into my normal daily routine (answering emails and logging requests) and sometimes I go into the battalion HQ to do a few hours. My civilian boss is flexible with the needs of the army and makes sure that I have a good handover of my work if I will be gone for a day or a few weeks on exercise.
My team at HM Land Registry is exposed to a high-pressure environment through me, and they can learn from the examples I share with them and the knowledge I am bringing back into my civilian career. In trying to strive for the best in them, I am striving for the best in me. I am serving them to lead – putting their needs and their progression alongside mine and mapping how we as a team become better at our jobs and support the organisation more.
Deep breath before you sign up
For anyone interested in the joining the reserves, my advice is to take a deep breath and do plenty of reading first.
If you decide to sign up, the army just gets to you, it is like an itch you need to scratch, it is an urge you need to fulfil, and it is a belonging you feel void without. My time in the reserves can sometimes be difficult, and usually emotionally more than physically. But nothing prepares you for the real thing and my experiences don't even come close to tours of Iraq or Afghanistan. They are truly beyond even my comprehension.
Good luck if you decide to embark on this journey. It is an honour and a privilege – but only once you are doing it will you truly understand the meaning of those words, and perhaps understand Churchill's.