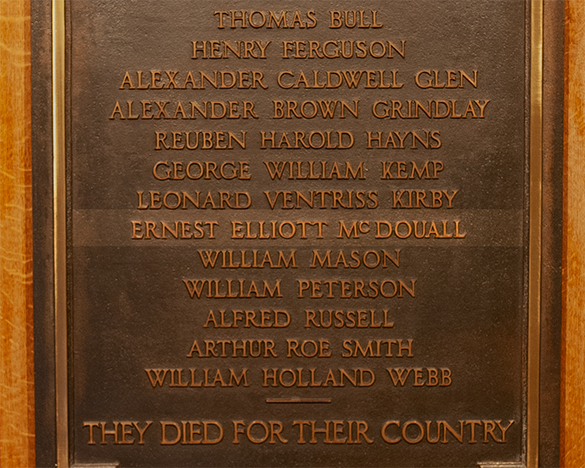 Infantryman Ernest McDouall survived to see the Armistice which ended the First World War on 11 November 1918 – but is honoured today as one of the 14 HM Land Registry men who lost their lives as a result of the conflict.
Ernest sadly died in 1921 from wounds sustained at Passchendaele in Belgium towards the end of the war and his name was included on the memorial plaque erected in our offices in central London soon afterwards.
Born in Battersea, south London, in 1887, Ernest had followed his father's profession of solicitor's clerk and joined HM Land Registry in 1913. He married Gertrude Taylor the same year and their daughter Vera was born in 1914.
Within months Germany had invaded Belgium and Great Britain had declared war. In December 1915 Ernest enlisted as a private in the 1st battalion of the London Regiment, which was part of the 24th Division fighting at Passchendaele in 1917 and 1918.
Ernest suffered two injuries and was discharged on 18 October 1918 "on account of disabilities contracted with an Expeditionary Force in the present war". He received the Silver War Badge to wear with his civilian clothes as recognition of his service.
Marking the centenary
Every November we remember Ernest, his 13 colleagues whose names are also recorded on the plaque and their 25 fellow HM Land Registry men who died as a result of the Second World War and are commemorated alongside.
This Armistice Day we will again be laying wreaths at the memorials and joining people across the world in marking the centenary of the end of the 1914/18 war.
More than 100 HM Land Registry men had taken part in the fighting. Chief Land Registrar Sir Charles Fortescue Brickdale recorded how, when Britain declared war on Germany in August 1914, "while enlistment was voluntary, every man of military age applied for and obtained leave to volunteer for active service.
"Afterwards, when the age limits were extended, there were only nine men of military age – all declared unfit for general service – who were not with the colours, all but one of these being over 30, four over 40, seven married, two not called up."
Out of a total of 220 male members of staff of military age, 108 served on land and sea and in the air during the war, 20 as officers. Many who were over military age or unfit joined the anti-aircraft or ambulance corps, or became special constables or volunteers.
In addition to the 14 men who lost their lives, a further 16 were wounded, one was taken prisoner and two were interned in Holland after the defence of the Belgian port of Antwerp.
The men remembered on the memorial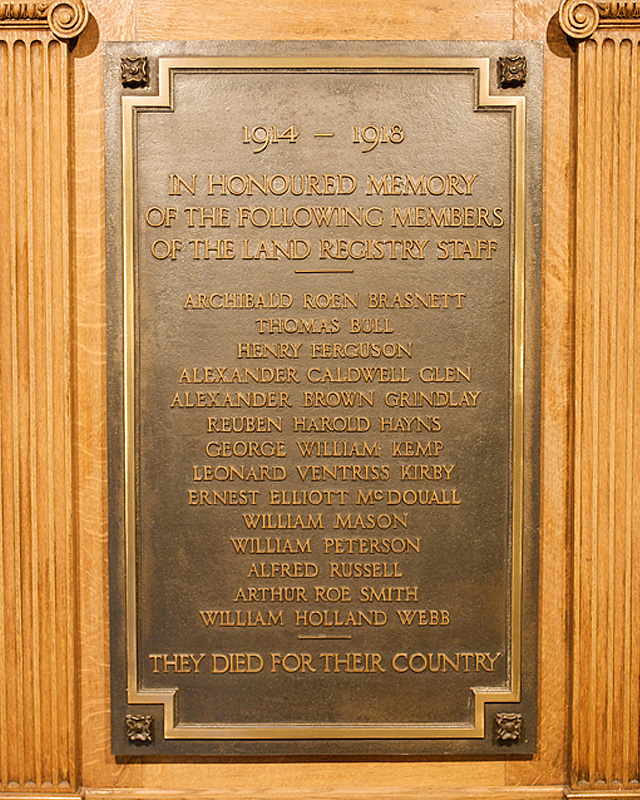 (We know more about some than others.)
Archibald Brasnett, attendant, reservist with the Royal Regiment of Artillery, died of wounds on 25 April 1917.
Thomas Bull, attendant.
Henry Ferguson, scrivener (drafted contracts and other legal documents).
Alexander Glen, joined the London Regiment, died in battle on 25 April 1915.
Alexander Grindlay, assistant clerk, joined the Royal Army Medical Corps and then the Royal Scots, died on 24 March 1917.
Reuben Hayns, joined the Manchester Regiment, died of injuries on 24 January 1918.
George Kemp, clerk, joined the London Regiment, died in action on 6 December 1917.
Leonard Kirby, joined the London Regiment, died in action on 28 March 1918.
Ernest McDouall, clerk, joined the London Regiment, injured, discharged on 18 October 1918, died in 1921.
William Mason, map labourer.
William Peterson, clerk, joined the London Regiment, died on 7 October 1916.
Alfred Russell.
Arthur Smith, attendant, joined the Royal Engineers, died on 17 June 1917.
William Webb, joined the London Regiment, died on 22 March 1918.