Applications are now open for the Geovation Accelerator Programme. Caroline Bray discusses the benefits for PropTechs using geospatial data.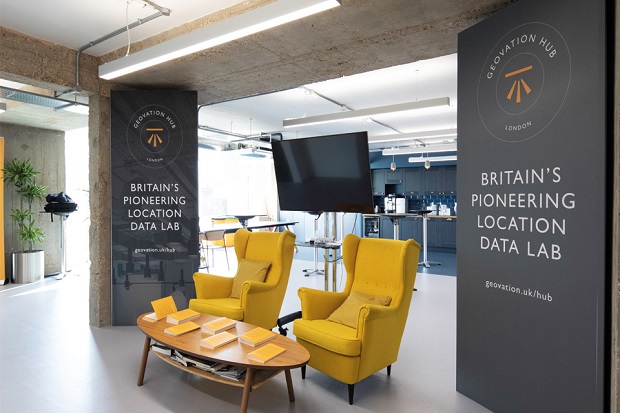 Geospatial data has immense potential value for the UK economy. A recent report from the Geospatial Commission suggests that "analysis of private sector use cases suggests government could unlock up to £6-11 billion per year of economic value". As one of the governmental bodies who hold significant geospatial data, we are committed to ensuring that we explore how we can support this work.
A key part of this is the Geovation Hub, supported by ourselves and Ordnance Survey. Geovation is an incubator for PropTech and GeoTech startups in the UK, through which we're fostering the next generation of data-led tech solutions, and their potential value in the wider economy. This takes the form of the Geovation PropTech Accelerator Programme, dedicated to supporting open innovation and collaboration using property and location data.
Open to all kinds of PropTech startups, the programme welcomes applications from young companies which, if successful, will work with us to discover and explore what geospatial data we hold and how it can be used. Since October 2017, we have invested £160,000 of grant funding in 14 PropTech companies who have raised more than £6 million of third-party investment.
We are excited to be working with such creative individuals to help unlock the potential value that our data offers. By working with PropTech startups we are discovering how new companies and organisations use our data and how we can help to make it easier. To get an idea of the data that we hold, you can look at our data pages on GOV.UK.
Applications are currently open for the autumn 2019 cohort.
Join the programme
Whether you're a property developer, innovator or entrepreneur, the Geovation Programme is the perfect start-up accelerator if you want to create a business using property or location data.
You can now apply for the Autumn 2019 programme and we wanted to share a bit about what Geovation is and how it could help you.
Here are a few tips for your application:
when you fill in the application, make sure your application is really clear so that anyone who doesn't have a connection with your project will understand it
remember, you know your product inside out but the sifting and judging panel won't
the closing date is 2 September but don't leave it until the last minute to get your application in - competition is high so make sure you give it your best shot and take the time to complete the application to stand the best chance of being selected
Why you should apply
If you get onto the programme you'll get access to HM Land Registry and Ordnance Survey data, support on how to access and use this data, prime-location office space in Clerkenwell, meeting facilities, on-site business and technical expertise and funding to help you take your property idea to market.
Do remember that we don't bite! You'll always find someone from HM Land Registry around Geovation so if you want to talk about your idea, or how you can use our data, just grab us for a chat.
In my time working with Geovation, the businesses that we've supported have been so varied, all of them with such innovative ideas. Previous companies we have supported have used our data to help improve the rental market, develop rooftops for affordable housing, improve property transactions, provide home and property management, and help drone users fly safely!
You would also benefit from an informal support network. I've seen so many discussions between the teams in the Geovation offices. Working among such creative individuals really helps to spark new ideas, share successful approaches, and build a stronger product.
We're looking forward to reading about all the great ideas that are out there!