Have you ever wondered about the history of your local area? Even if you work or reside in one of the 28 'new towns' in the United Kingdom, you will not have been the first person to settle or trade there. There is no location in the UK where no one has gone before. Modern cities and towns represent a long timeline of habitation that dates back centuries.
Human beings remain tribal creatures. We coalesce in family units, workplace teams, in sport and nationhood. Over time, we have become largely non-nomadic. Where we now live and work, early Britons and subsequent invaders (Romans, Anglo-Saxons, Norsemen and Normans to name a few) established homes and commercial centres. Unstable social and political conditions meant that these settlements were subject to the ebb and flow of continuous homesteading. This has created layers of man-made (artifact) and natural (ecofact) assets below the landscape.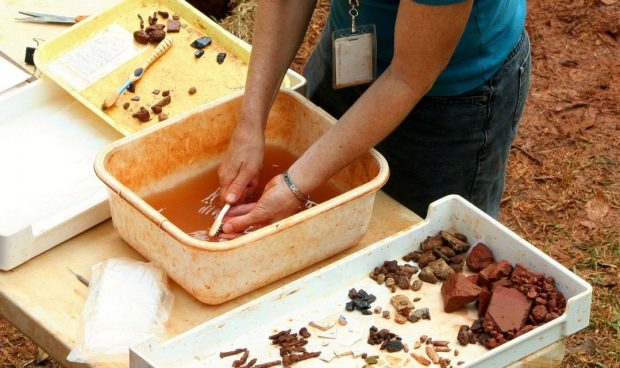 On topic for urban planning
We have been discussing geospatial data for improved infrastructure planning in this series. What's the relationship between a concise history of Briton and data? Data is a tool that informs, educates and demonstrates across a range of disciplines. It links back to a core principle in the infrastructure sector; the requirement for sustainability. Understanding humanity's historic interaction with the natural environment is achieved through the science of urban archaeology.  Discoveries during excavations offer insight into the spatial landscapes of historic urban environments. The most obvious of these are remnants of border walls (urban boundary), tools or implements (societal type), coins (ethnic culture) or physical remains (location of burial sites and religious practices).
Before the new city is constructed, the historic urban centre requires preservation.
Roman myths and reality of Metro C
Last time, we referenced Rome's high profile Metro C project; how layers of historic urban development had created a series of impediments to completion. The city has a population of just over four million to include the city proper and what would be considered 'greater Rome'. For decades, there has been a need to expand the metropolitan subway network. Intensive digging often resulted in unearthing ancient settlements. The requirement to preserve history was soon at odds with the contemporary needs of a busy conurbation.
Research published in 2014 indicated that the two metro lines that operated in Rome extended for a total of 36km. The road network was used to an optimal level which meant that vehicle access to the city centre was permitted only for residents. Planning for a third line, 'Metro C' was intended to ease congestion. Planning began in 1994. Initial archaeological excavations were carried out with the completion of engineering works and construction originally slated for 2000. Excavations continued on and off. The line eventually launched in 2014 with distance of travel extending to 12km.  As of last year, a further discovery was made: 9,700 square metres of ruins (now designated Hadrian's barracks) within the area which is now an excavation site.
Practical urban archaeology in the UK
Back at home, engineers and urban archaeologists are involved in more creative approaches. Britons enjoy a tale of two histories: agrarian and urban that have rubbed along together for at least millennia. Geospatial data offers the required insight to create maps and timelines. The end result is the history of a city.
University College London (UCL) is one centre of learning offering specialist capability in advanced spatial analysis. Urban archaeologists integrate geospatial data with GIS mapping tools to develop space and time information. This requires analytical and computer-aided design capability. UCL have developed a visual representation of what can be achieved using spatial data as a foundation for discovery.
Where your knowledge of geospatial data can take you
Whatever your current or desired area of expertise, working with data offers opportunities for creativity and innovation alongside more traditional vocations; engineering, surveying, construction and project management. Urban archaeologists and planners contribute directly to future communities through the preservation of the past. The UK has a need for qualified professionals equipped with the analytical capability to contribute in steering the direction of Britain's new sustainable landscape.