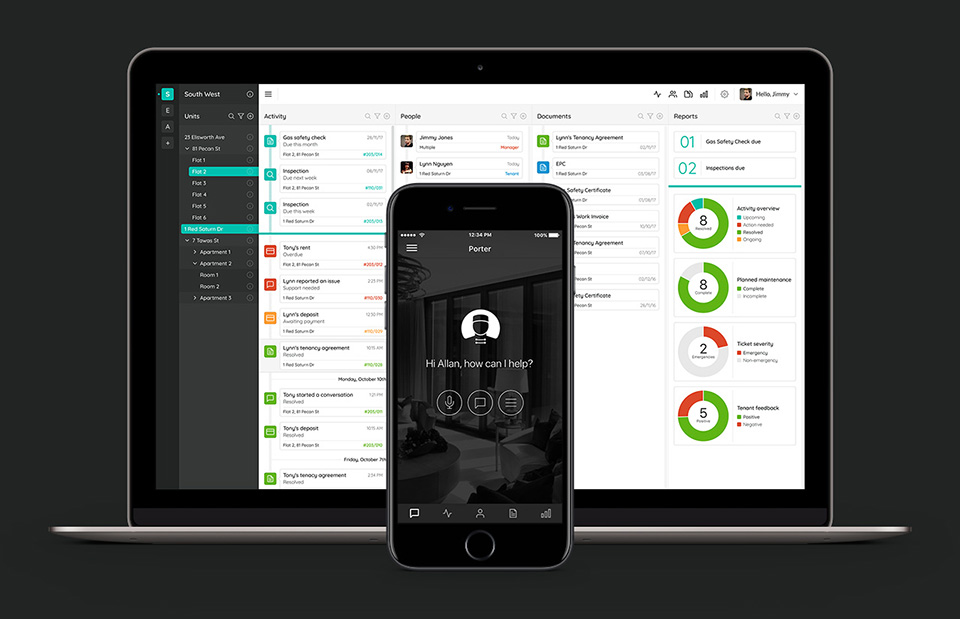 Good management relies on great communication. That idea rings true, no matter the industry, and property is no exception. At AskPorter, we take this idea to heart and are driven to make great communication achievable and streamlined across the property sector.
When we came up with the concept for AskPorter, we aimed to address the disconnect in property management tools. We weren't out to create just another property management application that can manage tenant data, throw up reports, or compile spreadsheets at the right time. There are already tons of stand-alone applications that can do that. Of course, these functions are essential to good management, but we saw AskPorter as more than that.
Instead of standing apart from other applications, AskPorter is a multi-channel communications platform with an open Application Programming Interface (API), designed to connect with other applications and provide a single user-friendly interface. On top of this integrated platform, we've deployed an Artificial Intelligence (AI) assistant that has been trained to be the perfect property manager. The assistant, who we perhaps unsurprisingly called Porter, is wired to comply with regulations, is never too busy to communicate with tenants, and is available 24 hours a day, 7 days a week.
Porter isn't just another simple chatbot, though. He proactively carries out planned duties, guides customers through enquiries and reporting issues, and delivers concierge services, only reverting to a human manager or approved service provider when necessary. Essentially, Porter serves as a personal assistant for property managers and a property concierge for customers and tenants. What's more, Porter is continuously learning from interactions, both in terms of language and outcome.
Getting to this stage has already been a triumph of sheer determination, endless hours of hard work from the tech side, and a lot of investment. This has grown significantly, as we closed our seed round in January, backed by heavy-weight property, technology, and business experts, led by former Executive Director of LSL Property Services, David Newnes. The round also included personal investment from serial super-angels James Caan CBE and Faisal Butt as well as the continued support from Pi Labs, the PropTech VC firm.
We have also been fortunate to land partnership deals with the UK's leading out of hours service provider, Adiuvo, and others, such as newly-launched POD Management.
The Geovation Hub has proven to be invaluable since we became part of the community last year. It is a fantastic resource, with a supportive team that truly "gets" startups. The technical resources, support services, and community we have access to offer unparalleled opportunities for anyone operating in the property and technology sector. Being part of the Geovation community has undoubtedly opened doors, with events that showcase you in front of a targeted and engaged audience.
---
About Geovation
Geovation was developed by Ordnance Survey in 2015, to support GeoTech entrepreneurs, and has been expanded with support and finance from HM Land Registry to support PropTech innovators.
Ask Porter joined the Geovation programme last year and has received funding from HM Land Registry, as well as access to our expertise, technology, and data.