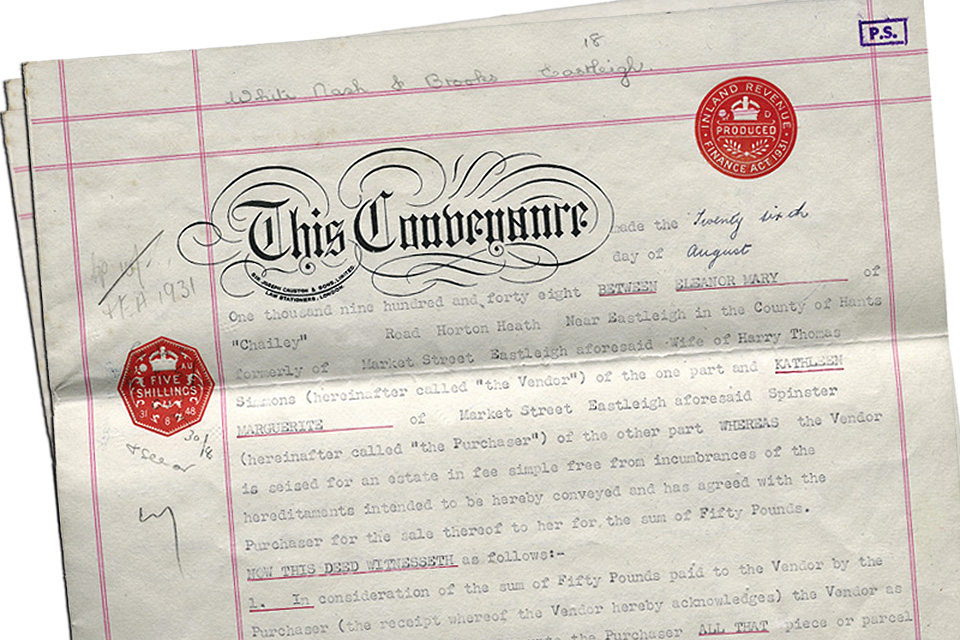 Before I worked here, I wondered if HM Land Registry was full of clerical staff pushing piles of paperwork around, like a scene from Terry Gilliam's 'Brazil'.
I was happy to discover that HM Land Registry is actually very forward-looking and is using digital technology to transform how land registration works.
I think some of our customers may have a similarly false impression though. They are often disappointed to learn that we don't have their original title deeds, stored in a library of dusty ledgers!
So, what are title deeds, where are they kept, and do you need them?
What are title deeds?
Title deeds are paper documents showing the chain of ownership for land and property. They can include:
conveyances
contracts for sale
wills
mortgages
leases
Where are my title deeds?
HM Land Registry records are digital, so we don't store paper title deeds.
Generally, we only have the original title deeds when land or property is registered for the first time, as we need them to prepare the register. We create scanned copies of some deeds and then return all the original title deeds to whoever lodged them. This is usually the solicitor or conveyancer acting on behalf of the buyer.
So, if you're trying to track down your original deeds, they could be with the solicitor who acted for you when you bought the property, or possibly with your mortgage company if you have a mortgage.
If the property was already registered when you bought it, the seller may not have handed over the original deeds. There's no requirement for them to do so. Tracing the original deeds for a property that has been bought and sold many times is likely to be an impossible task.
If you want to see a scanned copy of the deeds that we have on file, start by searching our property information and finding your property's title number. If the register refers to deeds being filed, we should have copies. You can then get a copy of your deeds.
Do I need my title deeds?
Our Land Register is the definitive record of land and property ownership in England and Wales. So, if your property is registered with us, you don't need the deeds to confirm your ownership. It's a good idea to keep the original deeds though, as they can hold extra information, about legal boundaries or who the previous owner was, for example.
If your property isn't on the register and you choose to apply for first registration, you'll need to submit the original deeds to us. If your deeds have been lost or destroyed, it can make things more complicated, so I'd always recommend keeping them in a safe place.