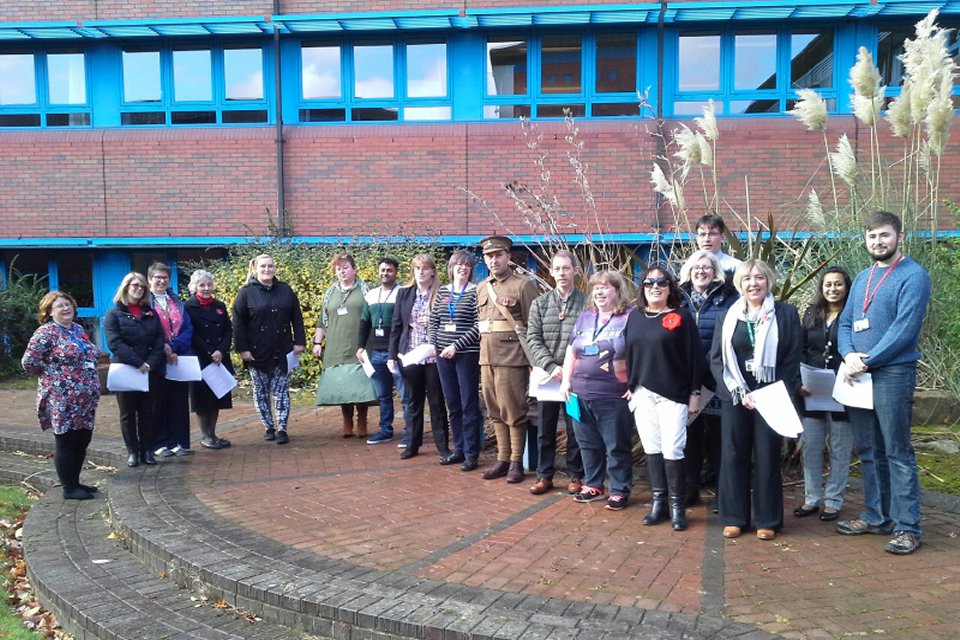 "Music washes away from the soul the dust of everyday life." – Berthold Auerbach
At HM Land Registry we enjoy a huge amount of health and wellbeing support and a thriving Disabled Employee Network. We're celebrating the current Disability History Month and this year's theme of Disability and Music.
Whether it's the Beatles or Katy Perry, Josh Groban or Pavarotti, I bet you often find yourself singing in the car or the shower, giving your all to your favourite tune, for the benefit of no one but yourself, and here's the thing – it is for your benefit; physically, mentally and socially.
I'm a caseworker at our Telford Office, where I process more complex applications and support the rest of my team. I worked in customer support at our Fylde Office until I moved here last year.
I have psoriatic arthritis, an autoimmune disease which affects my skin and joints. A blister on the sole of my foot can mean three weeks on crutches, while a change in the weather can result in the need for extra painkillers.
When I sing, I forget, just for a while, that my skin is driving me insane with itching, or that my hips and knees are aching.
Regular singers can enjoy the benefits of a stronger diaphragm, stimulated overall circulation and the effects of endorphins, the feel-good brain chemical that helps you feel uplifted and happy. Singing can help to take your mind off troublesome things, boost your mood, help you relax and ease muscle tension.
There is also, of course, the social aspect of singing in choirs and groups, which can help tackle loneliness and combat a number of mental health issues, such as anxiety and depression.
Sharing my love of singing has certainly helped me during a time of change.
I've sung all my life; my parents were both involved in local amateur dramatics and I grew up singing everything from Gilbert and Sullivan to Queen. So, when I was asked a few years ago to set up a choir at Fylde, I jumped at the chance.
For half an hour during a Thursday lunchtime at the office, all ailments and aches were forgotten, and we absorbed ourselves in song. We participated in organisational events, such as Christmas celebrations and the Summer Fayre.
Moving to Telford Office was quite a daunting change. I'd worked for HM Land Registry for almost 30 years, but here I was, to all intents and purposes, "the new girl", so what did I do? I set up an office choir, of course!
There are currently 20 members of Telford Office Choir and for half an hour once a week we meet in a quiet space at the office (where we don't disturb our colleagues) and sing.
We sing all sorts of music. Recently we've sung songs from World War One for the Armistice Day celebrations and, of course, we have been getting ready for Christmas.
Not everyone is always pitch perfect or can keep perfect time, but it doesn't matter. We enjoy each other's company and feel great after every session.
Christmas is a great time to sing, with a plethora of hymns, carols and Christmas songs to get you in the mood for the festive period. So over the next 10 days or so, give it a go and see how fun you find it.
Happy Christmas everyone and go have a sing-song!