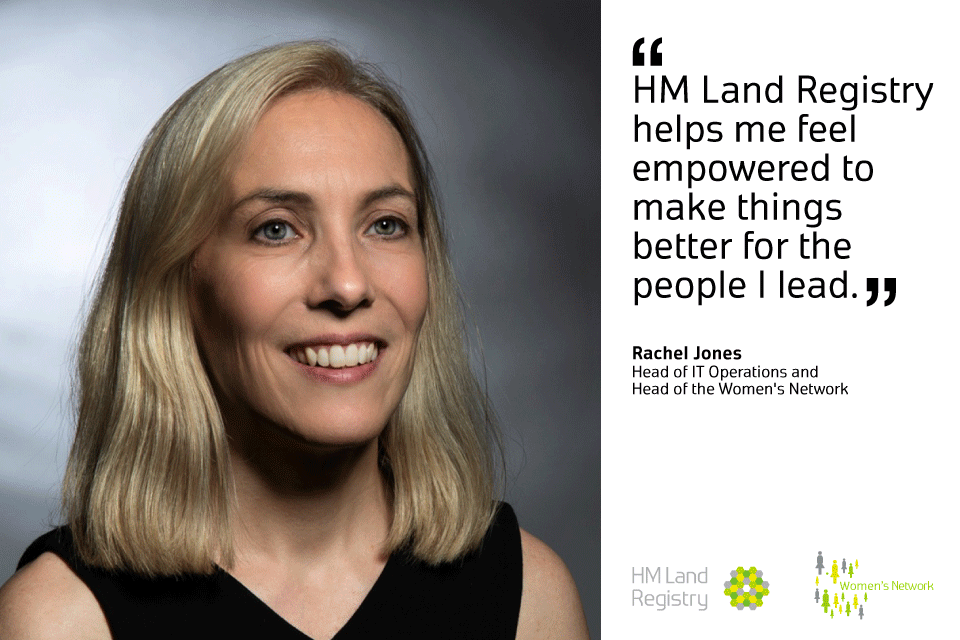 I studied biology and biochemistry at university but 20 years later I'm not a scientist – I'm Head of IT Operations at HM Land Registry. How did I get here from there?
The journey
After completing my master's, my first job was as a climate change researcher. I quickly realised this wasn't for me, but I did enjoy helping to maintain the research facility's IT estate. I packed in my job, moved to Bristol and started applying for jobs in IT!
I managed to secure a job in NatWest Bank as an IT security specialist. There was a lot of hard work to up my skills, but the role gave me really valuable experience in the industry.
After a few years at NatWest I moved to Cap Gemini as a senior IT security specialist where I was responsible for supporting multiple clients through their day-to-day business operations and projects. Shortly after I moved to AXA Tech as a senior IT security specialist, again supporting a range of clients. Both roles gave me a chance to improve my skills in different environments and added team lead skills to my CV.
While looking for my next step, I saw an exciting opportunity with HM Land Registry in Plymouth as an IT Security Compliance Analyst. This provided me with additional experience as I had not yet worked within the public sector. It also meant I could pursue more of the things I loved such as surfing and biking.  At this point I also started to understand the difficulties of a work/life balance as my family grew from two to five over three years.
Juggling the demands of the new job of motherhood, I took a decision to return from maternity leave early to apply for and secure a position on HM Land Registry's Future Leaders programme. I learned so much through this programme, but what also helped was that I stopped thinking of my career as always being a ladder and started exploring other opportunities.
Over the next few years I moved to Infrastructure Delivery Lead, undertook a project management secondment and managed a technical infrastructure team. I was then asked to establish a new IT Operations function specialising in working with developers to build new digital services. This was daunting but exciting, so I agreed to take this on. This demanding role enabled me to gain more of the skills I needed to undertake senior leadership roles and I moved up to be Head of the Delivery Centre and to where I am now 13 years later.
I am passionate about breaking down barriers which women face in the industry and help make a career in IT more attractive. Because of this I founded HM Land Registry's Women's Network in 2016.  Over the past few years I have worked with the network in delivering a range of workshops and campaigns inside and outside of the organisation promoting the values of a brilliant Civil Service, HM Land Registry and the IT industry. In addition by working with schools and universities in the region I hope to have made a difference to encourage women into IT and bring digital talent to the South West.
My advice
Did I ever think this was the job my degree would lead me to? No. Do I love my job? Yes. It's challenging, it's fast paced, I work with a fantastic group of people and every day is different. Work out what you want to achieve and go for it but remember it doesn't always have to be up.
HM Land Registry is a great place for anyone looking for a career in IT. The opportunities I have been given have led to me being nominated and shortlisted for the CIO (Chief Information Officer) of the Year category for the Women in IT Awards. I was a bit surprised to be shortlisted for CIO but I have since learned that it is a wide-ranging category, and I am incredibly proud to be shortlisted alongside some amazing people. My brilliant colleague Lauren Tombs has also been nominated and shortlisted for the Innovator of the Year category. Good luck Lauren! This shows what amazing people we have working at HM Land Registry and how your work here is recognised by the industry.
We also have some fantastic family-friendly policies which can help you balance work and personal life. It can be tough, it can be demanding but it's always a great place to be.