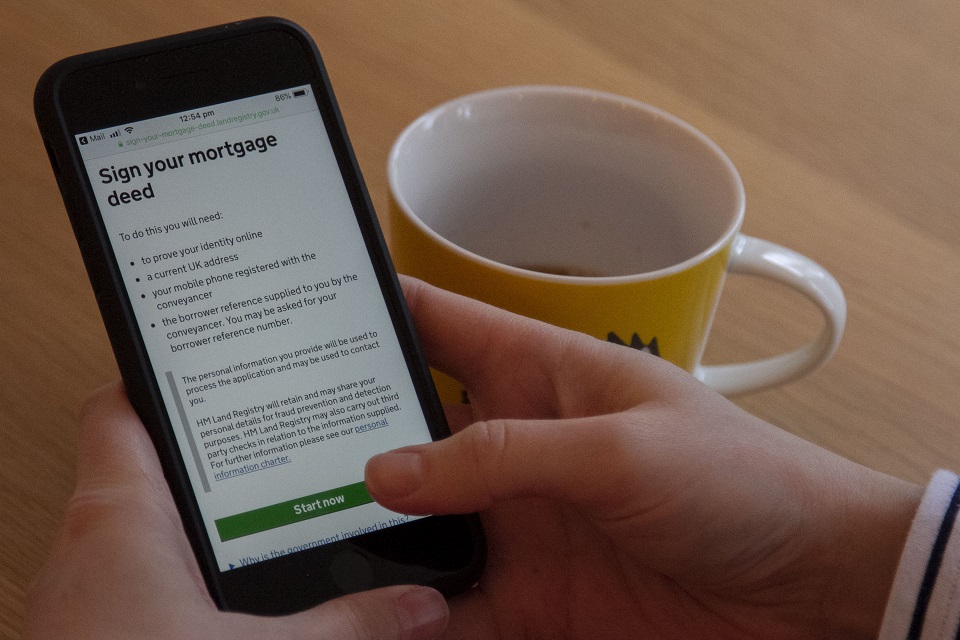 The mortgage market is changing. More and more people are finding mortgage offers online, with some lenders introducing online application services. We have seen this shift over the last year as more and more mortgage lenders and conveyancers have been coming to us to use our new digital mortgage service.
The 'Sign your mortgage deed' service is an innovative yet simple way for a lender and conveyancer to create a digital mortgage deed that can be signed by a borrower online. It saves time by removing the need for paper mortgage deeds that need to be signed in front of a witness and returned by post. It also reduces the risk of errors on the form, removing the need to resend and resign forms. The whole process becomes much simpler, and much quicker, with some customers also suggesting to us that it is more secure than the paper process.
Working with customers to get the service ready
Back in April 2018 we registered the first digital mortgage on a property in Rotherhithe, in east London. Since then, we've continued to test the service in a controlled environment. We've been working with Coventry Building Society and Enact Conveyancing to pilot the service with a number of borrowers. The support and involvement of both Coventry and Enact has been invaluable in ensuring the service meets the needs of our customers and we are very happy to be continuing to work with both in the next phases of developing the service.
Alongside this rigorous testing, we have been working with lenders to get their mortgage deeds approved and templates created. We now have approved several mortgage deeds from a range of lenders in the remortgage market, including Nationwide, HSBC, RBS and NatWest, and Santander.
We've also been helping a number of conveyancers to access the system easily and quickly. So far we've been working closely with a group of conveyancers who together process more than half of all remortgages in England and Wales. As well as ensuring their systems are able to access the new service we've been collecting feedback from the group to ensure it meets their needs.
Since opening the service to more lenders and conveyancers we have seen an increase in the number of digital mortgages registered. This shows the appetite in the mortgage market to use new technology. Some lenders have started offering online mortgage applications and our service helps to bring the industry one step closer to an end-to-end digital process.
How the service works
The simple, free service enables homeowners to sign their mortgage deeds online. They no longer need to be sent a paper form, find the time to sign it in front of a witness and post it back.
For borrowers to use the service, they will be sent a link by the conveyancer. The borrower will first need to prove their identity using GOV.UK Verify. It's always been vital we ensure the right person is signing a deed. Using GOV.UK Verify gives us a level of assurance we don't have with a wet signature.
Once the borrower has verified their identity, a code will be sent to their mobile phone. Entering this code will activate the electronic signing process. If there is more than one borrower, they'll need to sign the deed in the same way.
Our new service makes completing a deed simple, for both borrowers and conveyancers. This new process reduces the opportunity for mistakes to be made, almost eliminating the need for deeds to be re-signed and resubmitted. It can also be very quick. Whereas paper deeds can often take days to complete, one of the first digital mortgages was effective the day after the mortgage offer was issued.
I've been working with this service from the start. I'm now very much looking forward to bringing more lenders and conveyancers on board. Opening it up to more customers is a major milestone in our digital transformation.
If you are a lender or conveyancer and would like to know more, you can contact the team on digitalmortgages@landregistry.gov.uk.
As more digital mortgages are signed, we'll continue to review feedback, helping us to improve the service for everyone. By working with our customers in the industry, learning from their experience using the system, we can build a faster, simpler and cheaper registration process.