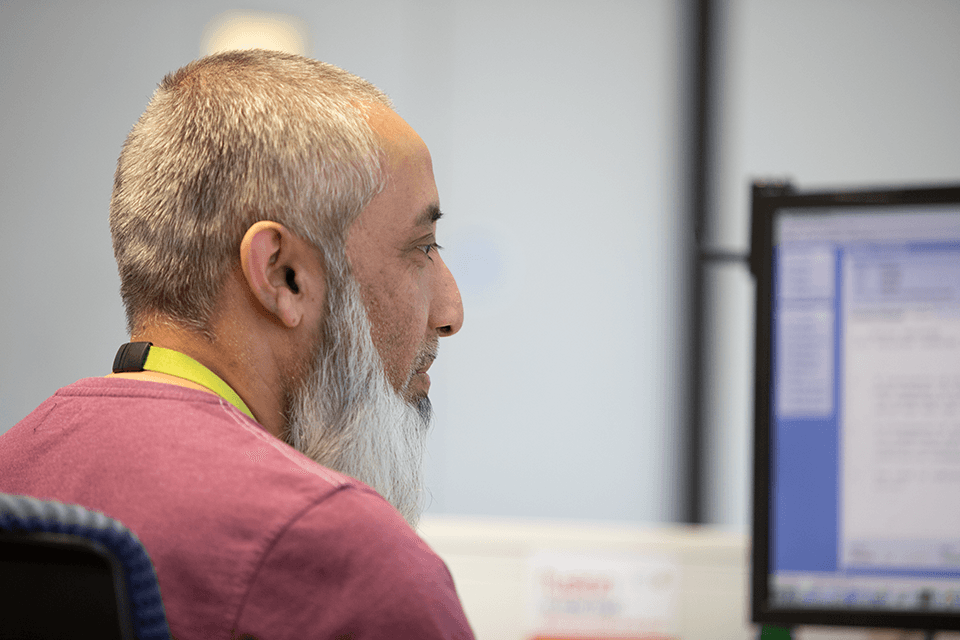 Following on from the Prime Minister's announcement on the public health measures implemented across England, I wanted to take this opportunity to share an operational update from HM Land Registry.
I want to reassure our customers the latest measures will not impact our service levels, as nearly all our staff are equipped to work remotely. We are now well placed to maintain these service levels in the light of these changes, and in the event of any further local or national lockdowns.
Before I get into any more detail on what we're doing, I wanted to give a quick update on our current estimated completion times.
Simple updates to the register
This makes up most of our service requests and we've seen a big improvement since the peak in June when the majority of most simple applications were taking around 2 months – the time it takes to process these requests has more than halved.
Most of these requests are taking around 3 weeks. More than half are processed in just over a week but in some instances it can take up to a month.
However around a fifth of all applications require us to make requests for information (requisitions) – which then take considerably longer, with most only being completed after 6 weeks.
Complex changes and new entries
The other applications we receive are more complex and usually involve the creation of a new title.
Most of these applications are completed within 9 months but we know that some can take up to 11 months, with exceptional cases taking even longer.
These times are what can be expected for applications being processed now. I appreciate that some of the more complex applications lodged previously have already been with us for longer than these times.
We are able to expedite urgent applications – the majority of all expedited applications are processed within 10 working days. We know that the market is extremely busy at the moment. We are putting measures in place to ensure we can expedite all applications that need to be processed urgently for reasons relating to the Stamp Duty Land Tax holiday.
Working to improve our services
Our absolute top priority is to reduce any delays, both those caused by the pandemic and those existing beforehand. Our current processing times are not where we want them to be in the longer term, and we are absolutely determined to reduce them. We are constantly reviewing our position and adjusting our resources where necessary to ensure we simultaneously deliver our services and promote public health in the most effective way. We have also extended the opening hours of our Customer Support Centre until 5pm each day.
In addition, we are recruiting more than 500 new colleagues, many of whom are joining us soon, and all of whom will be in place early in the new year. Behind the scenes we have numerous programmes promoting the most efficient and effective ways to undertake our work; from ensuring applications are seen by caseworkers as quickly as possible, with less time allocated to administrative work and more time on actual casework, and adopting the innovative use of new technologies to improve our casework systems. I will bring you more detail on these projects in future updates.
The impact of requisitions
One aspect of our work that continues to have a real impact on the speed of our services is the number of applications we receive with errors or omissions, meaning we need to send out requests for information (requisitions).
Around 1 in every 5 applications contains an error or lacks crucial information. In September we completed more than 300,000 applications to change the register – of these, 64,000 had at least one requisition request. Many of these are avoidable errors – for example, we know that on average around 12.5%, or 1 out of every 8 requisitions, are due to name variations. This all costs time and money to process, and ultimately slows everything down for those transacting in property.
From mid-November we will be resuming the practice of cancelling applications with outstanding requisitions. At the start of the coronavirus pandemic we paused all cancellations to give our customers additional time to gather the information needed. However, as there are now an increasing number of applications which are building up and resulting in some delays, we need to resume cancellations. I would encourage customers to not wait for a reminder letter to respond to any outstanding requisitions.
If you think you may have outstanding requisitions, I would encourage using our recent enhancement to the HM Land Registry portal – View My Applications. All users of the portal can access this free-to-use service, via the left-hand navigation bar, to view their portal-lodged applications as well as all the relevant correspondence – including requisitions. You can reply to each requisition using the Reply to requisition service in the portal.
Watch our short video (49 seconds).
View My Applications has gained lots of positive customer feedback and we currently have around 7,000 users accessing the new service every day. We will soon introduce a new feature, Estimated Completion Date, which we plan to launch in early 2021. Estimated Completion Date will show a date for each portal-lodged application, updated monthly, all on one screen.
In addition, our new Digital Registration Service (available to all users later this year) will digitise and simplify how you submit your applications to us by checking the information as you add it in. This will help you avoid some of the more common errors and ultimately speed up turnaround times by reducing requisitions.
Watch our short video (1 minute 11 seconds).
Listening to our customers
We are always listening to what our customers are telling us about our services and doing everything we can to respond quickly. At the start of the pandemic we heard that customers wanted us to start accepting electronic signatures. So we brought forward our work on this area.
Alongside the 'Mercury signing approach', we have now started accepting witnessed electronic signatures. Our next step is to release our draft practice for the other form of electronic signature – qualified electronic signatures. We will also be releasing draft guidance on the use of digital identity checks, enabling simple online-only ID checking. I hope that you will let us know your thoughts on this draft so we can make sure the eventual practice meets your needs.
We are conducting research so we can learn more about the priorities of our customers' client work and the transactions our customers rely on the most to complete. This research will inform our longer-term focus on how we deploy our resources to meet best those priorities. We want to make sure the way we work truly complements the way you work. As with our work on electronic signatures, we place the needs of our customers at the heart of our decision-making process. We've got an early idea of where everyone's priorities lie but before we respond to these we will continue to talk to a representative spread of customers. We hope to update you more over the coming months.