Three quarters (76%) of the customers who use our free online service, Application Enquiry, agree that it reduces the time they need to speak to us about their registration applications. We all know the expression 'time is money', so if you are a land or property professional, are you using the service and reducing your costs like your competitors?
What is Application Enquiry?
Application Enquiry has been giving land and property professionals accurate information about pending registration applications since March 2016. To use it, you'll need to be signed up to use our Business e-services through the HM Land Registry portal.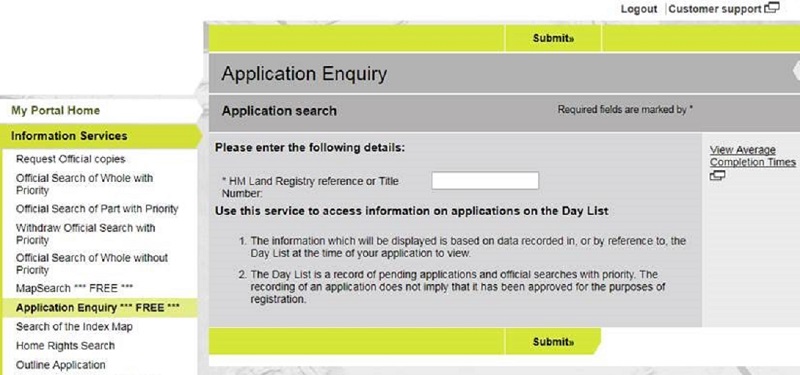 The service offers you an online tool that supports the way you already monitor and manage registration applications. You can use it to search the applications that have been lodged with us for registration, and use a variety of references to check:
an application's progress status;
the reason an application has been delayed, where applicable;
if a charge has been discharged;
information about recently completed or cancelled applications; or
the full priority period for Official Searches.
Please note that you will need certain references to search for certain things. For example, you won't be able to find out whether an application has been completed if you don't have the relevant reference number we give you, keeping it all secure.
Why use our Application Enquiry option
Eighty-two per cent of those who have used Application Enquiry rate it as excellent, very good or good and over half (59%) agree that they are able to find all of the information they need about their applications. That's because we've been enhancing the service in response to user feedback since we launched it.
Once you have found the details you need, you can save them as a PDF to keep for your records or send them to other interested parties. Our customers, such as lenders, asked us for this feature so we built it for them.
If you don't find what you are looking for, you can contact us directly from Application Enquiry. You can even send us a request to expedite your application under certain circumstances.
Once you start using Application Enquiry, you shouldn't need to call or email us as often, especially about the progress, status of, or recent activity with your applications. This means your organisation can focus on other priorities, while we get on with processing your applications.
We know our customers want us to improve our speed of service as a priority. Together, we believe we can drive down the time it takes us to process applications, especially new title applications, and reduce the time and cost of registration.
How to make an Application Enquiry
Our guide explains how Business e-services customers can check their current applications to HM Land Registry through the portal.
We have also put together some tips to help you get the most from the service. They include searching by the reference we supply and saving application details for later, and checking and verifying discharge activity, the limitations of requesting more information and asking us to expedite an application.
The statistics in this post have come from the Customer Satisfaction Survey we conducted between 20 February and 3 March 2017. Three hundred customers took part.